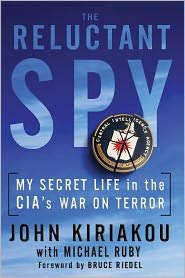 Should Kiriakou be indicted?
A few weeks ago OSINT News published a piece about John Kiriakou, a CIA hero, who turned on his country, according to the government. He's the sixth person accused of violating the Espionage Act during President Obama's term. We conducted a POLL regarding this particular indictment, asking whether or not you felt he should have been indicted. Eight readers voted and here's the Poll results:
100% of you felt he should not be indicted.
Robert Morton, M.Ed., Ed.S. is a member of the
Association Of Former Intelligence Officers
(AFIO) and writes about the U.S. Intelligence Community (IC). A portion (10%) of this site's ad revenues is donated to the AFIO. The views expressed on this site do not represent those of any organization he is a member of. We're always looking for different perspectives regarding the Intelligence Community- got a thought, article or comment you'd like to submit? Contact us on the Secure Contact Form