Valerie Plame (Wilson), the CIA case officer outed by Dick Cheney, Scooter Libbey and Karl Rove during the Bush administration, is promoting a new movie/documentary. French journalists interviewed Plame during its premier showing: "
Countdown to Zero
". It focuses on non-proliferation of nuclear weapons and was screened at the Cannes Film Festival. Plame is a consultant behind the movie on the global will to stop the spread of nuclear arms. As you know, Valerie Plame was a CIA agent whose mission was to fight the spread of nuclear arms. After her identity was exposed in the White House Scandal, she turned to film-making, yet retained the same ideals. OSINT News wrote an article on her outing, called "
White House Leak Made All Americans "Fair Game
".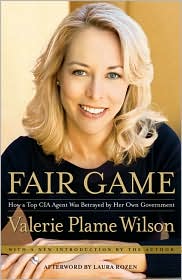 Learn more
All employees of the Central Intelligence Agency must sign a confidentiality agreement that requires that they submit their writings to the CIA for prepublication review. Valerie Plame Wilson, whose work for the CIA entailed covert operations, of course abided by this agreement, and her manuscript was reviewed by the CIA and returned to her with numerous redactions — cuts — that the CIA determined were necessary. Many of these cuts related to material that would disclose Ms. Wilson's dates of service, information that has already been widely disseminated.
As has been reported, Simon & Schuster and Ms. Wilson brought a legal action against the CIA; we felt that the redactions required by the CIA went beyond any reasonable requirements of national security and impaired important First Amendment rights. A federal district court has disagreed, determining, essentially, that while Ms. Wilson's dates of service may be in the public domain, they cannot be reported by Ms. Wilson. Accordingly, Ms. Wilson's portion of this book contains only that information that the CIA has deemed unclassified and has allowed her to include.
Many sections of Fair Game

(Above left photo)

that have been blacked out indicate the places where the CIA has ordered cuts. Still, even with these substantial redactions, the book still conveys the power of Ms. Wilson's story. However, an afterword by reporter Laura Rozen was legally done and is intesting to read, for it uncovers much of what she (Plame) was unable to publish (Nothing that interferes with national security). Drawn from interviews and public sources, it provides historical background and recounts portions of Ms. Wilson's life and career that she was unable to include herself. When the afterword is read together with Fair Game, a full and vivid picture of Valerie Plame Wilson emerges. Ms. Wilson has had no input or involvement in the creation of the afterword, which she has not seen before the publication of this book.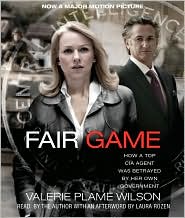 Audio Book- Learn more
Robert Morton, Ed., Ed.S. is a member of the
Association Of Former Intelligence Officers
(AFIO). A portion (10%) of this site's ad revenues is donated to the AFIO. The views expressed on this site do not represent those of any organization he is a member of. We're always looking for different perspectives regarding the Intelligence Community- got a thought, article or comment you'd like to submit? Contact us on the Secure Contact Form