CIA case officers are sometimes recognized for their covert and often dangerous work overseas. The House of Representatives recently named a post office in upstate New York for officer Gregg Wenzel, who died in a car accident in Ethiopia in 2003 while under cover. Rep. Nan Hayworth of Ny said, "When a man has given his life, as Gregg David Wenzel did, to protect our American liberties, honoring him through the tradition of naming a post office for his extraordinary service to our country is both fitting and inspiring."
The US Post Office facility is located in Monroe, New York, and is officially designated to be the "National Clandestine Service of the Central Intelligence Agency NCS Officer Gregg David Wenzel Memorial Post Office".
Wenzel was a ten-time marathon runner and finisher, three-time Ironman finisher as well as a world traveler. He was affiliated with many organizations, some of which include Chabad, the University of Miami Masters Swimming, The Florida Bar Speakers Bureau, The Florida State and Federal Bar (Southern District), FACDL, Dade County Bar Association (Young Lawyer's Division), Civil Litigation Committee (DCBA), Miami Runners Club and the Leukemia and Lymphoma Society Team in Training.
At the time of his death, Wenzel was 33 years old, he was employed as a clandestine CIA
officer and was stationed in Addis Ababa, Ethiopia until he was killed in a tragic car accident on July 9, 2003. To this day, the drunken driver remains a fugitive. Six years after his death in Ethiopa, on June 1, 2009 the CIA uncovered Gregg's true identity as a clandestine services officer. His obituaries said that he was a "U.S. Foreign Service officer" killed by a drunken driver on the streets of Addis Ababa. The State Department job was a cover for his real occupation: CIA spy. It was CIA Director Leon Panetta who revealed Wenzel's true identity during a ceremony commemorating those who died in the line of duty. Panetta also revealed that Wenzel was a member of the first clandestine service class to graduate after the September 11, 2001, terrorist attacks.
Wenzel represented the
spectacular class of young Americans who joined the CIA after 9/11
. He left his job as an attorney to join the agency, thus sacrificing a career in which he could have accumulated a higher salary and financial well-being...for his love of America and patriotism. There are now 90 stars prominently displayed on the memorial wall in the spacious atrium of CIA headquarters, each commemorating an officer, like Wenzel, who died while serving the country.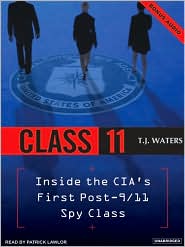 Click to learn more!



Class 11 was the CIA's first post-9/11 Spy Class. It turned out to be the most elite and secretive espionage training program in the country. Most likely, T. J. Waters, author of Class 11, was a classmate of Wenzel, and joined for the same reason. In the weeks following the 9/11 attacks, the Central Intelligence Agency received over 150,000 resumés from people wanting to serve their nation as spies. More than one hundred students were admitted to the CIA's Clandestine Service to become Class 11, the first post-9/11 CIA training class. It was the largest and most diverse class in the agency's history.
The 90th star was added recently, but as with most of the victims, the person's name and nature of service will remain unknown to the public so as not to compromise secret operations.
Wenzel leaves behind his parents Gladys and Mitchell, his sister Maura and her husband and his nephews Michael and Joshua and niece Jessica, his uncle Joe and his cousins Allison, Philip and Julie, and many friends. His memory will be instilled in the many lives he inspired and touched with his positive attitude and motivation toward life.
Robert Morton, Ed., Ed.S. is a member of the
Association Of Former Intelligence Officers
(AFIO). A portion (10%) of this site's ad revenues is donated to the AFIO. The views expressed on this site do not represent those of any organization he is a member of.

OSINT News

is always looking for different perspectives regarding the Intelligence Community- got a thought, article or comment you'd like to submit? Contact us on the Secure Contact Form