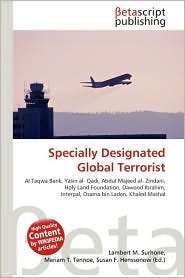 Learn more
The State Dept. designated a senior al Qaeda leader as a "Specially Designated Global Terrorist" because he trained militants in Afghanistan and maintained close ties to other top members of the group. Sanctions are placed against Azaam Abdullah Zureik Al-Maulid, aka Mansur al-Harbi. Though the United States is just now turning its attention to al-Harbi, he has long been a wanted man in his home country of Saudi Arabia.
In 2009, al-Harbi and 83 Saudis and two Yemenis were listed on Saudi Arabia's "most wanted terrorists" list for engaging in extremist activities abroad. Al-Harbi is a veteran of Afghanistan's terror training camps and is wanted for his connections with other senior al Qaeda leaders. The U.S. State Department announced that al-Harbi "traveled to Afghanistan more than a decade ago to join al Qaeda. He is responsible for training militants and for the coordination of foreign fighters who travel to Afghanistan to fight against coalition forces. As a result of his key training position, al-Harbi is closely associated to many senior al Qaeda leaders."
Who are his senior al Qaeda associates? One of them is Saif al-Adel, the interim al Qaeda leader following the death of Osama bin Laden. Al-Adel is also wanted for his role in the 1998 African embassy bombings. Another wanted associate, Abdel Aziz Migrin, was al Qaeda's leader in Saudi Arabia but was killed in a shootout with Saudi authorities in 2004.
When the list of Saudi's most wanted terrorists was released, Interpol issued "Orange" notices seeking information on all of the wanted men and "Red" notices thereafter for 81 of the suspects. Authorities believed all of the suspects were planning attacks against Saudi Arabia from abroad.

Eleven of the 83 wanted Saudi terrorists were once detainees at the U.S. detention center at Guantanamo Bay

. Upon their release they were repatriated and placed in rehabilitation programs aimed at abating their extremist views, but it wasn't long before all 11 fled. Authorities believe they rejoined their jihadist associates in neighboring Yemen, which is home to al Qaeda in the Arabian Peninsula (AQAP), one of the terror group's deadliest franchises. Please read "Terrorist rehabilitation- a good strategy?".
Three of them have since surrendered to Saudi authorities. The most recent was Adnan Muhammad Ali al-Saigh, who turned himself in just days ago. Al-Saigh fought with bin Laden's 55th Arab Brigade in Afghanistan prior to the September 11, 2001 attacks on the United States and went on to join AQAP after being transferred back to his home country from Guantanamo Bay.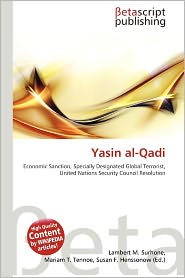 Learn more
Ironically, the States Treasury placed Yasin Al-Qadi

(photo left)

on the "Specially Designated Global Terrorist" list. He was also named in United Nations Security Council Resolutions 1267 and 1333. The European Union also placed sanctions on Al Qadi but, in 2007, the European Court of Justice overturned sanctions against Al Qadi by individual European Union governments, on the grounds the EU nations had not offered those sanctioned a chance for a judicial review.
Robert Morton, Ed., Ed.S. is a member of the
Association Of Former Intelligence Officers
(AFIO). A portion (10%) of this site's ad revenues is donated to the AFIO. The views expressed on this site do not represent those of any organization he is a member of.

OSINT News

is always looking for different perspectives regarding the Intelligence Community- got a thought, article or comment you'd like to submit? Contact us on the Secure Contact Form