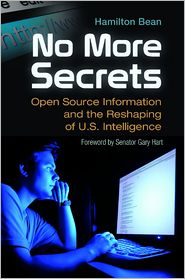 Learn more
Note:
OSINT News
maintains an affiliate relationship with Amazon.com, Barnes & Noble, and Linkshare. Ten percent of our ad revenue is donated to the Association For Intelligence Officers (AFIO). We offer you well-researched resources with the caption
"
Learn more
". Enjoy!
From the Western Defense Studies Institute, the widget

(below)

gives you reliable information on terrorism throughout the Middle East. It's a great osint resource.

OSINT News

cross-references articles from this widget with related topics in foreign newspapers published in the respective nation. Simply click on the "Get widget" on the bottom to cut & paste it onto your computer site.
Interesting how the Intelligence Community (IC) began taking osint seriously in the wake of the December 2004 legislation that required formation of an Open Source Center for making more creative use of open-source resources. The legislation also created a Deputy Director of National Intelligence as a focal point for analysis, established a National Intelligence University, and built a Long Term Analysis Unit at the National Intelligence Council. The book No More Secrets- Open Source Information and the Reshaping of U.S. Intelligence highlights the critical role osint plays in the intelligence-gathering business

. Here's an overview of the book:
"Since 9/11, U.S. intelligence organizations have grappled with the use of "open source" information derived from unclassified material, including international newspapers, television, radio, and websites. They have struggled as well with the idea of sharing information with international and domestic law enforcement partners. The apparent conflict between this openness and the secrecy inherent in intelligence provides an opportunity to reconsider what intelligence is, how it is used, and how citizens and their government interact in the interests of national security. That is the goal of No More Secrets: Open Source Information and the Reshaping of U.S. Intelligence."
Learn more

"To write this thought-provoking book, the author drew on his own direct participation in the institutionalization of open source within the U.S. government from 2001 to 2005, seeking to explain how these developments influence the nature of intelligence and relate to the deliberative principles of a democratic society. By analyzing how open source policies and practices are developed, maintained, and transformed, this study enhances public understanding of both intelligence and national security affairs."




Robert Morton, Ed., Ed.S. is a member of the
Association Of Former Intelligence Officers
(AFIO). A portion (10%) of this site's ad revenues is donated to the AFIO. The views expressed on this site do not represent those of any organization he is a member of.

OSINT News

is always looking for different perspectives regarding the Intelligence Community- got a thought, article or comment you'd like to submit? Contact us on the SECURE CONTACT FORM