In a BBC special entitled, "James May on the Moon", James May from Top Gear U.K. is taken on an emotional ride to the edge of space in a U-2 spy plane. The Lockheed U-2, nicknamed "Dragon Lady", is a single-engine, very high-altitude reconnaissance aircraft operated by the United States Air Force and previously flown by the Central Intelligence Agency. It provides day and night, very high-altitude (70,000 feet / 21,000 meters), all-weather surveillance. The aircraft is also used for electronic sensor research and development, satellite calibration, and satellite data validation.
35 U-2 spy planes remain active
Eighty-six U-2's were built and 35 remain active. Even though the U.S. Air Force and Navy would eventually fly the U-2, it was originally a CIA operation, run through the Office of Scientific Intelligence. Due to the political implications of a military aircraft invading a country's airspace, only CIA U-2s conducted overflights. The pilots had to resign their military commissions before joining the CIA as civilians, a process they referred to as "sheep dipping". As with CIA involvement, besides the normal construction and serial number for each aircraft produced, each U-2 also has an "Article Number" assigned, and each U-2 would be referred to with its article number on classified internal documents/memos.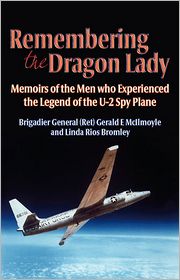 Order online
I found a reliable resource about the U-2, a book entitled, "REMEMBERING THE DRAGON LADY, Memories of the Men Who Shaped History In Support of the U-2 Spy Plane". It is co-authored by Brig. Gen. Geral E. Mcllmoyle, now retired, and is a collection of experiences, anecdotes and memories of 80 Air Force men and their families. In addition, the book contains experiences of U-2 pilots of the Royal Air Force and Republic of China Air Force.
The book was introduced in May 2008 at the last reunion of the 4080th Strategic Reconnaissance Wing veterans and their families and has continued to be a successful recollection of history-making events during the Cold War era, including the Cuban Missile Crisis.
Here's an excerpt: "In 1951, modified bombers began overflights of the Soviet Union, and a number of border flights were shot down. At that time, the planners imagined a high altitude aircraft hard to detect and impossible to shoot down.
Flying the aircraft was not for the faint of heart; in fact, it was considered one of the most challenging aircraft in the inventory to fly and required a high degree of skill and ability from its pilots.
The difficulty experienced by seasoned pilots who flew the U-2 resulted in it being nicknamed "Dragon Lady" meaning the aircraft was extremely unforgiving. Dragon Lady pilots were the first to fly and cruise above 70,000 feet; they were the first to fly with a pressure suit; and they were the first to gather intelligence information in many of the world's hot spots.
So, what do the finest pilots eat while flying missions that last 12 hours or more? Sgt. Suzzett Stalesky—an airspace physiologist and U-2 launch and recovery technician— says they eat "tube food". According to Stalesky, most pilots eat about a tube per hour and really have to watch out their food intake because they are not allowed to defecate in the suit. Their favorite tubed food: caffeinated chocolate pudding, which gives them a little kick while they are in the aircraft, and chicken a la king.
Other foods include peaches, hash browns with bacon, cinnamon applesauce, and key lime pie. Stalesky says that they have a chef creating new stuff and, once the pilots give the OK, they will start putting them in production.