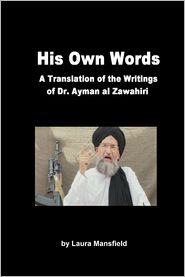 Order online
A year ago I

received

an unnerving post from the Dept. of Homeland Security. According to the Wall Street Journal, "
Al

Qaeda

is expected to shift strategy under new leader

Ayman

al

-

Zawahiri

, placing a higher priority on attacking the U.S. and Western targets overseas, where plots are easier to execute than on the U.S. homeland." This quote was from U.S. officials during an interview with the Wall Street Journal.
Zawahiri
plans to better coordinate the goals of Al

Qaeda's

leaders in Pakistan and affiliates, particularly in Yemen, which are increasingly becoming the group's

front line

operators. The

modus

operandi

of Al

Qaeda's

branch in Yemen is to conduct any type of attack possible, whether or not it will have a spectacular result, U.S. officials told the Journal.


As a result, the U.S. may have to alter its approach to

counterterrorism

operations, especially if Al

Qaeda's

Yemen and North African branches try to seek out U.S. or other Western targets in Europe or Africa. Such attacks would be reminiscent of Al

Qaeda's

first U.S. attack- the 1998 bombings of the U.S. embassies in Kenya and Tanzania for which

Zawahiri

was indicted for.
Read the "Corey Pearson- CIA Spymaster in the Caribbean" spy series online and get to know Corey and how the CIA operates!
The Obama administration said that it still considers Al

Qaeda

and its acolytes to be the "

pre

-eminent security threat to the United States" even after former Al

Qaeda

leader bin

Laden's

killing. But for the U.S. and European allies, it means

counterterrorism

officials must track a more dispersed threat. It isn't clear how aggressive the Egyptian doctor

Zawahiri

, age 60+, will be in executing his strategy in the near term. He maintains a low profile since taking over the terrorist group.
He did, however, release a video that eulogized bin Laden and vowed revenge for the Al
Qaeda
leader's death. It wasn't until months after bin Laden's death that Al
Qaeda
announced
Zawahiri
as its new leader, and he hasn't been heard from publicly since. I read lots of threatening responses to the killing of
Osama
bin Laden on terrorist Websites, including the video
(below)
by Omar
Bakri
. One Internet statement released by Al
Qaeda
warned that "soon, with God's help, we pray that their happiness turns into sorrow, and may their blood mix with their tears." Al
Qaeda
militants "will continue to plan and plot without any fatigue, boredom, despair, surrender or indifference:"
I also believe that the documents and other materials

seized

at the time of bin

Landen's

death should be taken seriously, especially the already planned attack on the U.S. Rail Transportation System to celebrate their 9/11 slaughter. The plan was found in the captured documents. Al

Qaeda

would enjoy carrying them out, to memorialize bin Laden and to prove we are still vulnerable. The most amazing event over the tracking down and killing of bin Laden was that the U.S. Intelligence Community (IC) maintained a safe house near the compound for months before the attack, unbeknownst to Pakistan's intelligence service, the ISI. The IC was correct in not telling the ISI, for it is permeated with radical Muslim members.
Read the article
Pakistan's Intelligence Service Crossed The CIA.
Several months ago, one Jihadist website made real threats. It mentioned pending attacks by al Qaeda will be with "God's Might", and take place in the "h
eart of the land of non-belief, America, France, Denmark,
other countries in Europe, and in other countries that have helped France". The site also mentioned that "the
attacks will be strong, serious, alarming, earth-shattering, shocking and terrifying." The website added that the attacks will
be "group and lone-wolf operations, in addition to the use of booby-trapped vehicles."
I wonder where, in America's heartland, the attacks will occur.
Robert Morton, Ed., Ed.S. is a member of the Association Of Former Intelligence Officers (AFIO) and writes the online spy novel series "Corey Pearson- CIA Spymaster in the Caribbean".
The views expressed on this site do not represent those of any organization he is a member of. Contact him on the Secure Contact Form