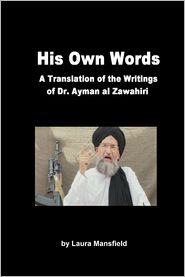 Learn more
Recently, Al Qaeda chief Ayman al-Zawahiri called upon Muslims to continue attacking Americans on their own soil in order to "bleed" the U.S. economy. Just l
ast month, Al-Zawahiri
talked for over an hour in an

audio message that marked the 12th anniversary of the 9/11 attacks on New York and Washington. His speech was broadcast on jihadi blogs after being produced by al Qaeda's media wing, as-Sahab media.
The usual verbiage ensued: "To keep up the hemorrhage in America's security and

military spending, we need to keep the Unites States on a constant state of alert about where and when the next strike will blow". He added, "Keeping America on its guard only requires from us scattered strikes here and there."
So, where is Ayman al-Zawahire? According to October 4 reports from New Delhi newspapers (IANS), he may be
hiding in Pakistan ever since he succeeded Osama bin Laden as the new chief of Al Qaeda after bin Laden's assassination in Abbottabad town. U.S. intelligence zeroed in on a book entitled "Pakistan: Before and After Osama", which was written by Imtiaz Gul, a Pakistani defense and security analyst. The book states, "Just as the search for bin Laden has been a pre-occupation for the past decade, the whereabouts of Zawahiri are now likely to engage the US and Pakistan intelligence." On where Zawahiri could be hiding, author Imtiaz Gul writes, "The city that would most suit him and provide him with the peace he needs to strategize his takeover is Islamabad."
U.S. intelligence analysts scrutinized another quote from Gul's book: "...it will be no surprise

if American or Pakistani intelligence were to scoop him up from Rawalpindi or Islamabad one day - the way they netted Khalid Sheikh Mohammed from Rawalpindi near the armed forces' General Headquarters. The 9/11 mastermind was finally indicted in early April 2012 along with four others, with prosecution demanding the death penalty for him."
Ironically, then Pakistani prime minister Yousuf Raza Gilani said that Ayman al-Zawahiri was not in Pakistan, challenging US Secretary of State Hillary Clinton's remark that he was, indeed, there. On May 7, during her three-day trip to India, Hillary Clinton categorically said that Zawahiri was in Pakistan. She declared in Kolkata: "We want to disable Al Qaeda. We believe Zawahiri is in Pakistan. You have to go over those who are trying to kill

you. You have to be focused on that."
I question Gilani's motive for denying al-Zawahiri's presence in his country and agree with Secretary of State Hilary Clinton's assessment. America must assume her suspicions are true and act accordingly. After all, the Egyptian Islamic Jihad linked al-Zawahiri to the 1998 U.S. Embassy bombings (August 7, 1998), where hundreds of people were killed in simultaneous truck bomb explosions at the United States embassies in the East African capital cities of Dar es Salaam, Tanzania and Nairobi, Kenya. U.S. intelligence linked these attacks to local members of the Egyptian Islamic Jihad along with Osama bin Laden and Ayman al-Zawahiri.
Indeed, al-Zawahiri's hatred toward the U.S. is intense. His his wife and three of his six children were killed in an air strike in Afghanistan by US forces in late 2001, following the September 11 attacks on the USA.
Order online
Shortly after 9/11, the U.S. State Dept.
offered a $25 million reward for information leading to al-Zawahiri's apprehension. He is a brilliant man and is a qualified surgeon. When his organization merged with bin Laden's al-Qaeda, he became bin Laden's personal advisor and physician. He had first met bin Laden in Jeddah in 1986 and has shown a radical understanding of Islamic theology and Islamic history. He speaks Arabic, English and French and is also under worldwide sanctions by the United Nations Security Council 126.
Robert Morton, Ed., Ed.S. is a member of the Association Of Former Intelligence Officers
(AFIO) and writes the online spy series "Corey Pearson- CIA Spymaster in the Caribbean". The views expressed on this site do not represent those of any organization he is a member of. Contact him on the SECURE CONTACT FORM